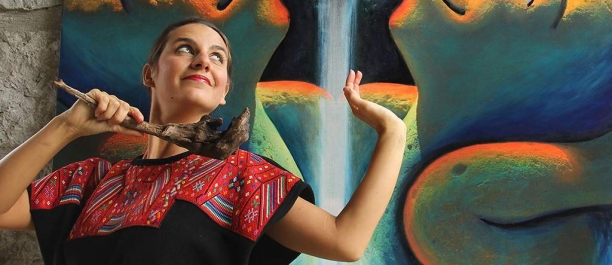 I am very happy that I finally overcame my laziness, and  my blog exists: welcome to my blog !
Thank you to the author Austin Kleon and his book "Show your work!" (http://austinkleon.com/), because he really transmit me the necessity to have my own blog.
I'm Corinna, I'm an artist: painter, fashion designer, writer. Nomad, cosmopolitan and spiritual.
I love travel and discover ancient cultures and tribal traditions around the world.
In this blog I wan bring to the light whole my creative process, that normally remains hidden in my artworks. In this blog I will post my travel experiences, that influence my collections of art (painting, fashion, writing), investigate spiritual concepts of old humanity like the Mayans, the Incas… and every place, book, artwork or person who affect me and fascinates me.
When ten years ago I started painting and decide to become a painter, rising in me the name PARALLEL ART.
With this name I wanted meaning my art style: the goal of my paintings is to expand consciousness, expand the vision of our reality, including others invisible parallel realities. I believe in the power of art is the liberation of the individual: to spark off to its lovers a new vision of reality and an extended awareness.
When I started painting, I really did not like sign the painting, with my name and family name, because they are a symbol of a certain culture, race and country.
I needed a new symbol out of space and time.
Remembered the studies of geometry in the high school, I decided to use for my signature the parallel geometric symbol.
My logo is the parallel.
Two brackets and two parallel lines mirrored:
That is a portal opens the door through a new dimension.
The Parallel Art.
After time it has become for me the image of the balance of the opposite forces (a concept that I repeat Constantly in my work).
After more time I saw my destiny number between the brackets, the number 11, it's appear always with me, in different experiences of daily life.
Some people supposed that the two brackets symbolize the initials of my name and family name, but I don't agree with them.
In 2015 I started CORA: a line of unique handmade clothing, using tribal fabrics and ancient tribal patterns.
This year, I started to write a book for children and "bigger children", the inspiration are real experiences of my shamanic journey that is the life. So maybe the word "parallel art" today, it may also include all my different artistic expressions, that have always the same point: express the invisible realities, the magic Spirit that is all that exist.
So welcome to my blog: the inside-soul-world of Corinna-Cora!